PRIMARY SCHOOL STUDENT SU...
PRIMARY SCHOOL STUDENT SUCCEED IN LCCI ACCOUNTING EXAMINATIONS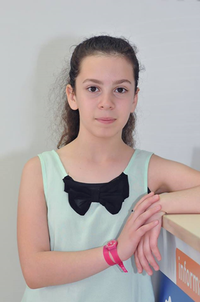 SUCCESS Story of young Doria in Level 3 of LCCI Accounting
At a ceremony held at the offices of CCCI (Cyprus Chamber of Commerce and Industry) on Tuesday, 13th September, 2016, student Doria Kafkalia (age 12) was awarded an honorary plaque for her unprecedented success in the LCCI Level 3 in Accounting by the President of the CCCI, Mr. Pheidias Pilidis.
It should be noted that when Doria was only 11 years old and in Year 6 of Primary School, she passed the first level exam. In the summer of 2015, she continued and successfully completed the courses for Levels 2 and 3 while attending the first grade of Secondary School.
Mr. Eugene Kolarides, Founder of the KOLARIDES INSTITUTE OF ACCOUNTANCY, congratulated young Doria and said: "for 45 years, I have taught LCCI accountancy to thousands of students and I have never seen such a young student pass these examinations."
After congratulating Doria, Mr. Pheidias Pilides wished her every success for her future career.
In addition to Mr. Pheidias Pilidis and Mr. Eugene Kolarides, Doria's mother, Mrs. Golfo Kafkalia, and Mr. Leonidas Paschalides, Director of the Department of Education and European Programs of the CCCI were also present.