EDEXCEL GCE A-Level: Acco...
EDEXCEL GCE A-Level: Accounting
Start Date:

Beginning of October

PLAN YOUR GOAL IN YOUR MIND
Next Assessment:
To be announced
Prerquisites:
LCCI Level 2 Certificate in Bookkeeping and Accounts and/or
Syllabus:
Unit 1 – THE ACCOUNTING SYSTEM AND COSTING
Principles of accounting and double entry book-keeping
Control procedures
Final Accounts of organizations
Introduction to costing and decision making
Evaluation of accounting statements
Unit 2 – CORPORATE AND MANAGEMENT ACCOUNTING
Limited companies
Investment Evaluation
Cash flow statements
Budgeting
Standard costing
Capital budgeting and appraisal
Cost behaviour and break-even
Marginal and absorption costing
Aims:
To develop:
a knowledge and understanding of the purposes of accounting, of accounting concepts and techniques and to develop the application of those techniques;

the skills of numeracy, communication, presentation, analysis and evaluation of  accounting information;

the ability to compile accounting reports in good format and to use them as the basis of  informed and rational decision-making;

a capacity for logical and objective thought which will serve as an end in its own right, as well  as a basis for further study in accounting.
Assessment Objectives:
Demonstrate knowledge of accounting procedures and understanding of the principles on which they are based;

Select and apply their knowledge and understanding of accounting procedures to a variety of accounting problems;

Analyse and present information in appropriate accounting format and communicate reasoned explanations;

Evaluate evidence and make informed recommendations and decisions.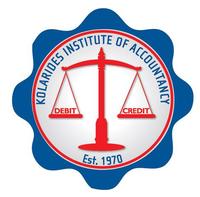 KOLARIDES INSTITUTES:
Registrations:
In progress.
Frequently Asked Questions (FAQs):
Please visit www.kolarides.com/faq.
Contact Details:
KOLARIDES INSTITUTE 
T: +357 22670778